Description
Why Choose This Leather Chair?
An office chair can make a huge difference in comfort and productivity whether you're working at home or in an office. Having the proper posture and arm support can reduce muscle strain and pain, while chairs on wheels can improve ease and efficiency in moving around the office. Our office chairs are notable for their quality, durability and ease of assembly.
Human-oriented ergonomic construction for providing comfort sitting experience
The rocking mode allows increased relaxation
Comfortable leather chair for task/desk/office work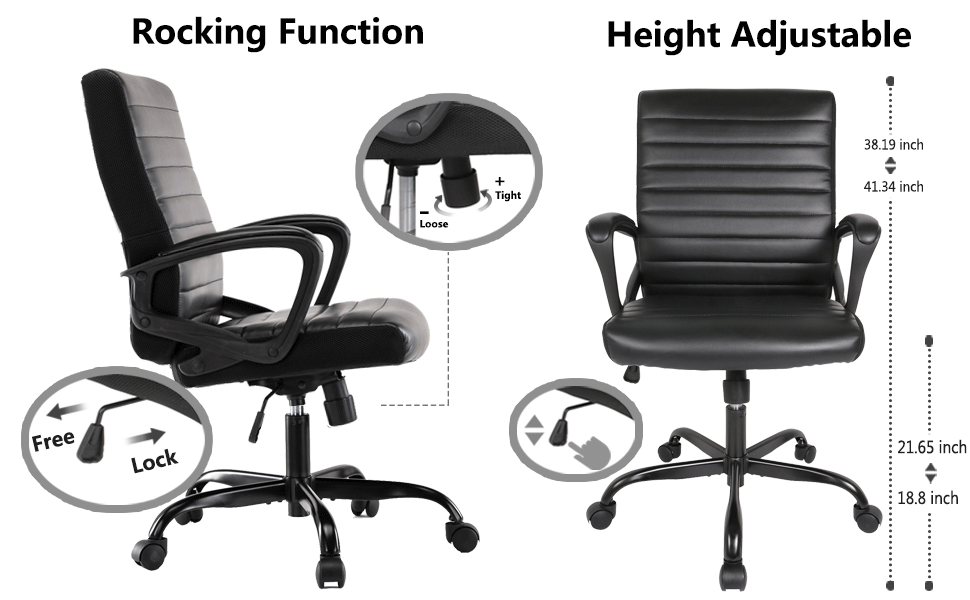 Tilt Tension: Long stem under the seat with knob
To increase tension:
While seated, turn knob forward (Counter clockwise).
To decrease tension:
While seated, turn knob backward (Clockwise ).
Operating the tilt lockout
To let your chair tilt back,pull the control handle out.
To stop your chair from tilting,sit forward,then push the control handle in.
Height adjustable
To raise:
While taking your weight off chair, lift lever up.
To lower:
While seated, lift lever up.
Ergonomic Design

The curved ergonomic design of this office chair comfortably adhjusts to your posture, ensuring superior comfort and protecting your back

Comfortable Armrests

The arm rests are designed to facilitate the natural seated position of the user helping align the spine

Padded Cushion

It is softer as well as has the characteristics of water resistance, high strength, softness and wear resistance
Flexible Wheels

The wheels provide a strong and stable base,360 degree swivel wheel and chair can be more flexible in working station

Durable Base

Made with strong material, the base could bear 250lbs, such base ensures the chair quality, just enjoy this chair

Take Out Parts

Open the zipper of the chair back to take out the parts please. When you don't need to use the chair, it can easily store the parts and save space.
Ergonomic back, padded cushion seat for long-lasting comfort
Durable flexible wheel casters for free rolling
250-pound max weight capacity, adjustable seat height
Product description
Office Chair, Desk Chair Ergonomic Executive Bonded Leather Computer Chair, Black
Reliable Comfort:
Our desk chair using high-density sponge cushion, more flexible, office chair with a middle back design, can provide good lumbar support. The computer chair use a luxurious bonded leather back to make you feels comfortable.
Solid and Durable:
With heavy duty base, SGS BIFMA gas rod, this mesh chair can bear the weight of 250lbs. Equipped with 360 degree swivel wheels, running smoothly on floors.
Suitable for Various Occasions:
No matter you're in the office, at your home, in a conference, or playing gaming, our mesh chair is a comfortable, stylish, and functional addition. It is a good choice to add one of our computer chair in your office or put a desk chair in your home/activity room.
Product Specifications:
Cushion width: 19.68 in
Cushion depth: 16.73 in
Chair back width: 19.68 in
Chair back height: 19.68 in
Seat height: 18.8 /21.65 in